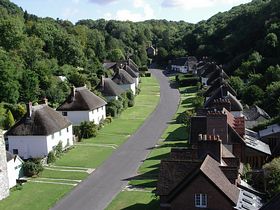 Until 1773 the area to the south east of the 10th century abbey church was the town of Middleton, which developed around the abbey.
Joseph Damer (later Lord Milton, 1st Earl of Dorchester) had the whole town demolished and moved into the next valley (now renamed Milton Abbas) because he disliked its proximity to his great house.
The "new" village was built between 1773 and 1780 along the sides of a single sloping street. The thatched cottages are evenly spaced in an artificial way which makes it almost professionally picturesque.
Most of the houses are now single dwellings instead of double - in the 19th century they were very overcrowded - it is said that 36 people lived in one of the cottages.
Nowadays some of the cottages can be rented for holidays - only one family at a time, though.